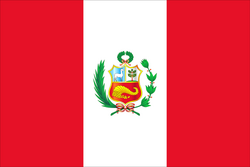 Appearance
Edit
Straight black hair, dark skin, black eyes and a grumpy face expression. When his powerbar is charged, he will hit with his big wooden blugedon. If the opponent touches it, he will get Hong Kong's nunchuck effect. He will have a spiky unkempt hair and some Indian paint on his face. Every 6-7 seconds he will say something and a medium sized parrot will fly into the opponent which will knock out the opponent for 3 seconds. He has a young moderate voice. Or, he will hit with his blugedon again.
Power Shots
Edit
Inca statue shot (Ground shot)
Edit
He will yell: "THE ANCIENT STATUE!". Then a big Inca statue will appear on his side, and he will sit on its neck (he will also be dressed in an ancient Incan dress). Then the big statue will run into the opponent and stomp on him. Then, the opponent will have Asura's powershot effect for 6 seconds. The ball will bounce up (like Mexico, but it will bounce slowly).
Inca knife shot (Air shot)
Edit
He will yell:"YOU'RE NEXT!".Then the big Inca statue will appear again.This time, it will hold a big stone knife.Then it will throw the big knife (the knife moves very fast).If the opponent touches it, he will explode and disappear for 6 seconds.The ball will be Italy-sized.The knife moves in an aslope direction like Mon-K's ground powershot.
Machu Picchu shot (Counterattack)
Edit
He will say:"Machu Picchu shot!" in a very fast way.Then, Machu Picchu will appear on his side (it's big so it covers Peru's goal).Then a big light-blue laser will appear on the top of Machu Picchu, it will go up into the air, and strike the opponent from the top.If the opponent touches the laser, he will turn into ashes for 5-6 seconds with an Italy-sized ball.
Unlock Requirements
Edit
Win the 1st Place in Head Cup without dash 10 times with 5 characters each.
Peru does not wear any special costumes.
In Peru, there are a lot of Parrots.
Ancient Incas lived in today's Peru, so that's the reason of the Power Shot and Peru's appearance, as well as the knife.
Machu Picchu is in Peru so that's why it's in the Counter Attack.
Ad blocker interference detected!
Wikia is a free-to-use site that makes money from advertising. We have a modified experience for viewers using ad blockers

Wikia is not accessible if you've made further modifications. Remove the custom ad blocker rule(s) and the page will load as expected.