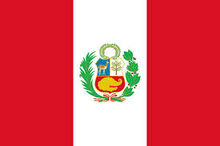 Appearance
Edit
He has indigenas clothing, golden eyes, silver hair, light golden brown skin.
Powershot
Edit
When you press the power button, he gets a wood sword that  hits (and knocks) the opponent every 4 seconds. Peru King have two Powershots and one Counter attack.
(Puma Shot) Ground shot
Edit
Peru gets on a puma and it runs with the ball to eat the opponent  the opponent turns invisible if is hit by the ball.
(Tropical shot) Air Powershot
Edit
Peru gets two tropical trees and throws them, (one to the left and one to the right) and for Last a giant tropical tree falls from the air directly on the opponent.
(Lion killer) Counter attack
Edit
Perú gets on a Lion and it throws Fire and a giant misil (Just like Mon-K Counter attack).
Unlock Requirements
Edit
With Ecuador Win 10 times Head cup without Dash or pay 9.000.000 points
Tattoes, T-Rex teeth hat, and giant wood bar.
Ad blocker interference detected!
Wikia is a free-to-use site that makes money from advertising. We have a modified experience for viewers using ad blockers

Wikia is not accessible if you've made further modifications. Remove the custom ad blocker rule(s) and the page will load as expected.