Appearance Edit
Christmas Islands is a Character Idea of CroatiaSoccer. He will have white skin, medium black eyes, a medium nose, grey hair, a grey beard and a serious expression. When he charges his Power Bar, he will create a huge yellow shock wave that can make the opponent golden and dizzy for 10 seconds and Christmas Island's expression will go from serious to happy (surprised).
Power Shot Edit
He has two Power Shots.
His first Power Shot is in the air.
He will jump into a cart and shout "GOLD!!!". Then he will throw a claw at the opponent and start pulling him into the cart. Then he will jump out of the cart and push it along with the opponent into the opponent's net. It will explode if it hits the opponent's net. When it explodes,a whole bunch of golden nuggets will fly out of the opponent's net (like India).
His second Power Shot is on the ground.
He will jump into the cart again and then he will start throwing a bunch of dynamites and pickaxes at the opponent (there are 5 dynamites and 5 pickaxes). The pickaxes can make the opponent dizzy and the dynamites can make him explode.
Counter Attack Edit
His Counter Attack is very unique. He will throw a claw at the opponent and pull it. When Christmas Island pulls the opponent he will start shaking him with his bare hands for 5 seconds with a very angry expression. As he shakes him, he will decrease the opponent's power and increase his own. Then he will throw the opponent into his net (the opponent will explode when he hits his net).
It's a costume that sprays smoke. The smoke can make the opponent blind and confused.
Unlock Requirements Edit
In Head Cup,win the 1st place by winning the every match by more than 10 goals or Unlock Christmas Islands buy giving 8.000.000 points.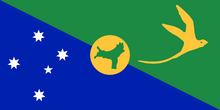 Ad blocker interference detected!
Wikia is a free-to-use site that makes money from advertising. We have a modified experience for viewers using ad blockers

Wikia is not accessible if you've made further modifications. Remove the custom ad blocker rule(s) and the page will load as expected.