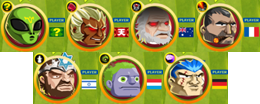 Characters are the guys you play with. Except for South Korea, every character needs to be unlocked before you can use him (there are some Glitches that allow you to play with the characters that you have not unlocked yet). You can either complete the Unlock Requirement or buy the character with Points (the amount of points required for a character is equal to the character's number (in terms of order) minus 1, and multiplied by one hundred thousand (ex., U.S.A. Is number 4, so he costs 300,000 Points.). Please don't post your ideas here, click here if you want to add an idea.
List of Current Characters
Note: This section is currently under construction, the photo's of South Korea till Devil are coming soon on the same version of the others.
Next Update 3.4|Date of Update: July 1, 8, 15, 22 or 29
(Simply just scroll down and comment don't be shy to comment :)