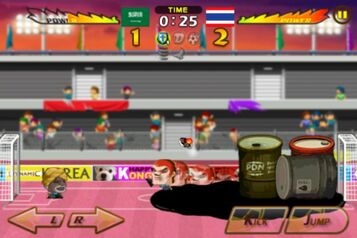 Dash is the power you get when you quickly click twice on the left or right button. Your Character will go quickly and further to the left or right then.
The Dash Achievement
Edit
One of the achievements is not to use dash. This is very annoying sometimes, because you may accidentally use dash. Also, you don't really need to use dash too often, unless you want to score a cool kick, and can be used as a replacement.
All the Unlock Requirements with Dash
Edit
Ad blocker interference detected!
Wikia is a free-to-use site that makes money from advertising. We have a modified experience for viewers using ad blockers

Wikia is not accessible if you've made further modifications. Remove the custom ad blocker rule(s) and the page will load as expected.