This page is only a list of the current updates. See Update History for all updates.
Note: We are not D&D Dream. If you want to request a/some character(s), you can request it here: Head Soccer Facebook.
Previous Update: Update 5.4 January 24 2017
Characters
Current Update: Update 6.0 June 17 2017
Characters
The Philippines, Senegal, Bolivia and Silicon Valley
Game Mode
Other new features
Next Update: Update 6.1 January 2018
Characters
Unknown Non-Country Character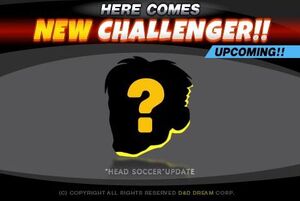 References
Ad blocker interference detected!
Wikia is a free-to-use site that makes money from advertising. We have a modified experience for viewers using ad blockers

Wikia is not accessible if you've made further modifications. Remove the custom ad blocker rule(s) and the page will load as expected.